What are biometric payments? Biometric payment is a point of sale (POS) technology that uses biometric authentication to identify the user and authorize the deduction of funds from a bank account.
START YOUR FREE TRIAL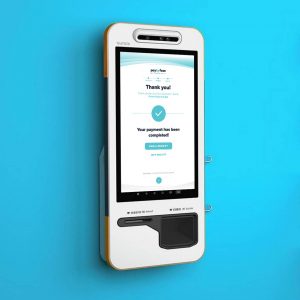 We provide modern and innovative POS systems that will transform your retail environment into a unique shopping experience for your customers!
Download Our Merchant Kiosk Apps
Reduce Payment Fraud
Our face recognition engine helps reduce payment fraud at point of sale.
Faster Checkout Time
Nobody likes to wait in line at checkout time, so with face recognition systems the process is much faster and more secure!
Digital Billboard System
Our PayByFace devices turn into a digital billboard letting you advertise promotions while not in use.
Cashier Integration
Our devices quickly and easily integrate into your existing cashier and inventory systems.